About the Search tool
The Professionalsoccercoaching.com database has a very powerful search tool which scans all the soccer drills, practice and articles in the library so you can pinpoint or browse the topics that you are interested in. You can access soccer drills and soccer practices within seconds on the exact topics you are wanting to work with your team on. Due to the large number of drills and practices in the library the site is structured into three tiers for ease of use. These three tiers are shown below. Sections are the highest level of the library, which contain categories. The categories are further break downs of the sections and contain all the articles (soccer drills).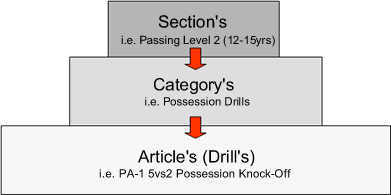 How to perform a Search
The main method for searching on the site is Search Bar 1, which is in the left hand and is available from any page on the site. Type in the keyword you are looking for and the search engine will search the whole site (Section's, Category's, Article's) by default.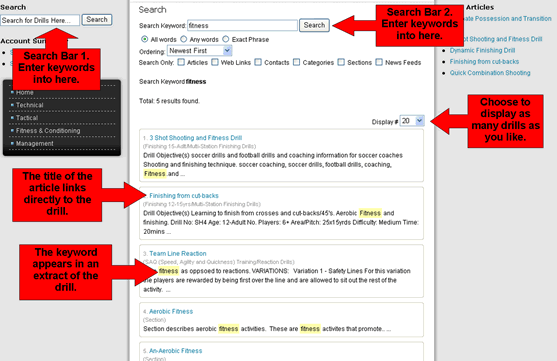 Example of a 'Section' Search
You have the capability to modify your search and in a number of ways. The image below displays a search at the section level for 'passing'. The results show the three sections of the site which contain passing categories. If you wanted to perform a search to get a listing of drills, you would deselect the 'section' check box and select the 'articles' check box.